Sound Therapy ~ Massage for the Brain
Alternate longer versions of some of the tracks on this page can be found on the AMBIENT LONG PLAY page in the above menu
CAUTION - The music and sound content on this website is intended for relaxation and improving health and wellness. The special soundscapes use specific frequency wavelengths that are believed to release and relieve tension and stress, and promote positive energetic wellbeing and heightened conscious awareness. Some are intended as sleep therapy. Please use these sounds with mindfulness and care. Do not operate machinery or drive a car while listening to the relaxation sounds and music. Some people may experience advertise affects to music and sounds, such as those who have Epilepsy and Parkinson's disease. 
If at all sensitive to sounds and frequencies, please consult with your medical practitioner before listening. It is recommended that the sounds be used at low to medium volume. Be careful not to listen to sound recordings at hight (loud) volume, as this can cause hearing loss, or may cause mental agitation. If a person experiences any feelings of physical or mental discomfort while listening to these sounds and music, they should stop listening immediately and consult their medical advisor.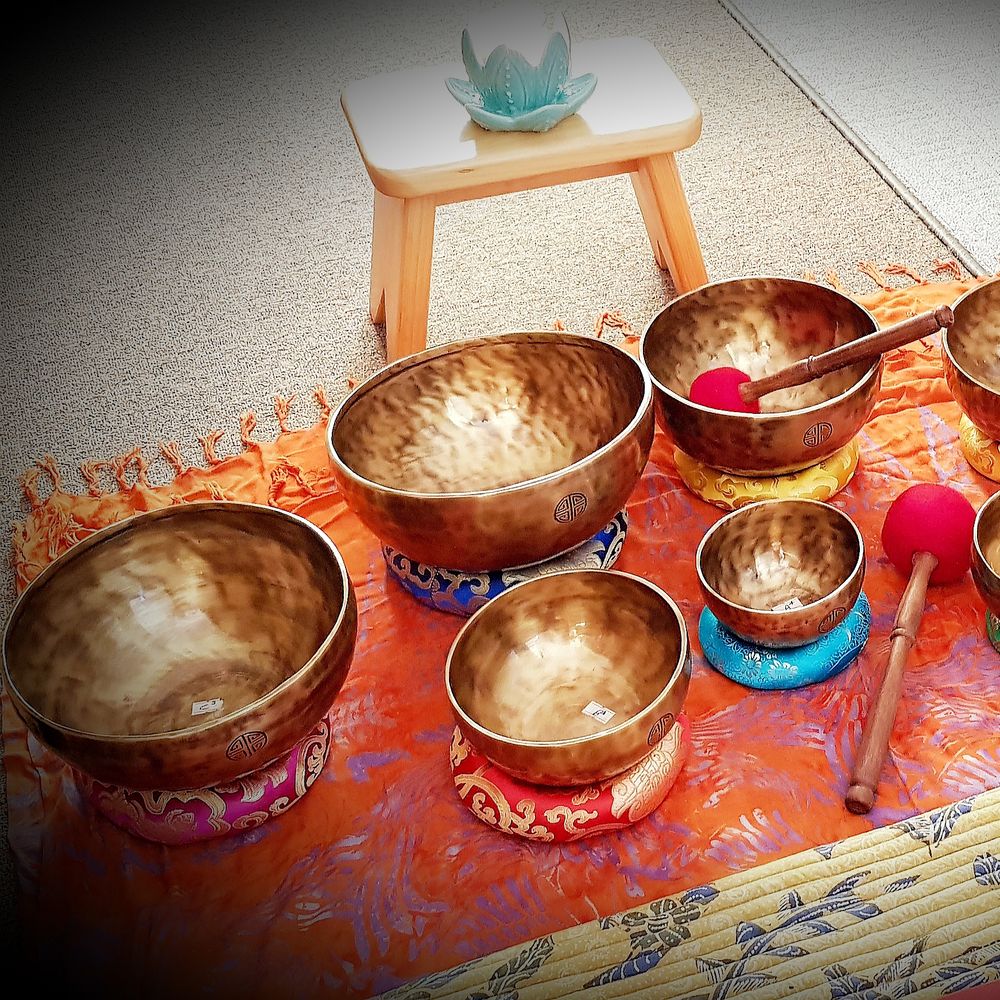 Singing Bowls ~ Binaural Beats ~ Soundscapes
This page presents a range of tracks and albums that feature music and nature sounds that can be used as Sound Therapy, including specialist sounds - such as Binaural Beats, 'Noise', Nature Sounds, and soothing Music Soundscapes - that may relieve stress or anxiety, promote calmness and better sleep, assist people suffering with Tinnitus, Vertigo or conditions such as Parkinson's Disease, or to rejuvenate energy by stimulating the Chakra subtle energy system... or for those who may simply be looking for a healing 'Sound Bath' in which to immerse, de-stress and relax.
The following section presents a choice of tracks which are either pure Binaural Beat Frequency Tones, or a combined blend of pure Binaural Beat Frequency Tones with nature sounds and soothing music (Tibetan Singing Bowls or Music Soundscapes). These may be from 5-minutes, up to 60-minutes in duration. Tracks begin with the reference or natural tone of the instrument, music (or tone wavelength), and the Binaural tone is gradually added around the first 30-seconds and continues for the rest of the track, producing the so-called 'Binaural Effect', or 'Binaural Beat' - a third sympathetic frequency produced by the combination of the first two sounds, which is believed to create a stimulating, positive therapeutic action in the human body and brain.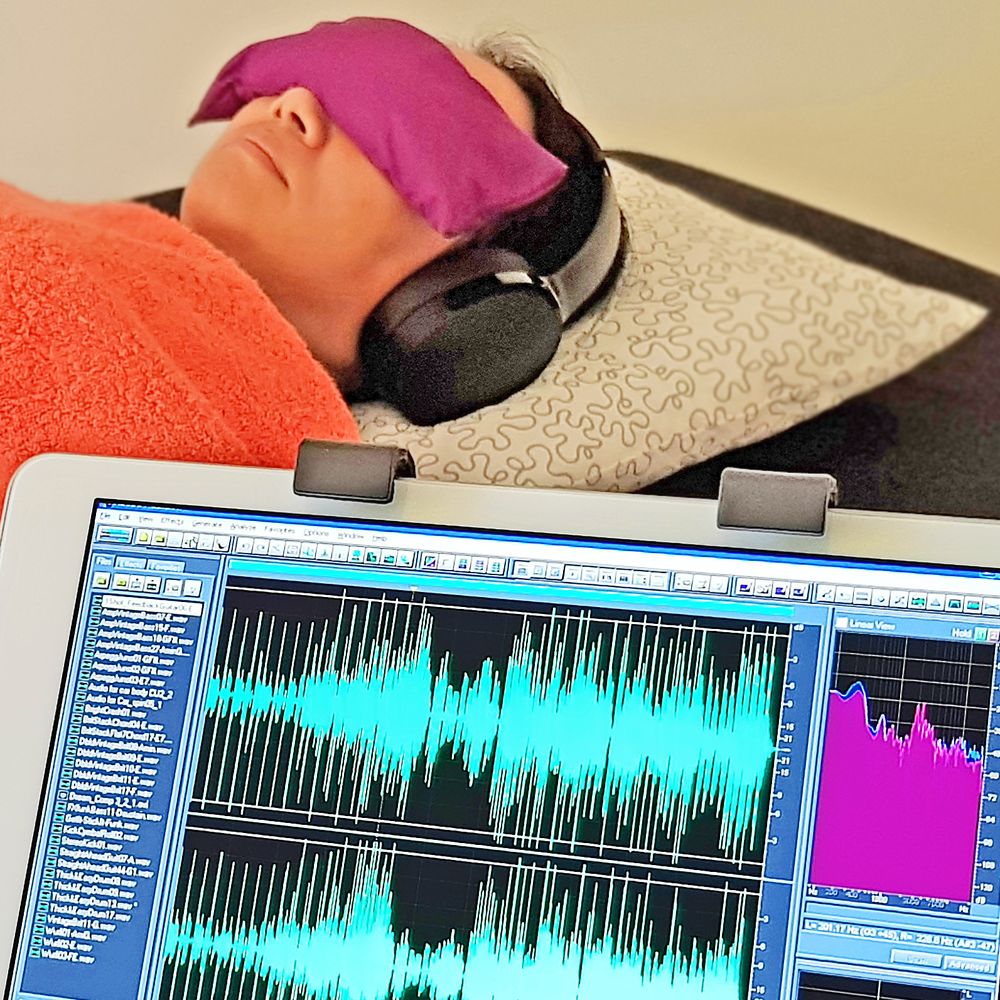 Binaural Beats
Binaural Beats is a form of sound wave therapy. It is a self-help treatment using audio recordings that a person listens to on stereo headphones. Advocates of this therapy currently recommend it for the treatment of anxiety, stress, and sleep disorders, as well as for promoting relaxation and calmness (as meditation), or connection to an expanded consciousness. The brain's wavelength frequencies are Gamma, Beta, Alpha, Theta and Delta.
The highest Gamma wave frequencies are conducive to stimulating Insight, Peak Focus and Expanded Consciousness. Beta waves promote Alertness, Concentration and Cognition, and are very useful for study. Alpha waves stimulate Relaxation, Visualization and Creativity. Theta waves are good for Meditation, Intuition and Memory. The lowest Delta wave frequencies are very useful for developing Detached Awareness, Healing and Deep Sleep.
How To Use Binaural Beats
Binaural Beats between 1 and 30 Hz are believed to create the same brain wave pattern that one would experience during meditation. While listening to a sound of a certain frequency, the brain waves will synchronise with that frequency. The use of binaural beats in this way is sometimes called wave entrainment technology (and is the basis of Nada Yoga, or Sound Meditation, practised by ancient yogis).
There have been several studies to back up the health claims of binaural beats. They are often viewed as a useful potential tool to alleviate the symptoms of stress, anxiety and negative mental states. Learning to meditate is not easy for everyone. Using binaural beats is one way to learn to ease into meditation. In the ancient art of Nada Yoga (Sound Meditation), the sound is first listened to with every meditation until the 'sound' becomes entrained (or remembered) in the brain. Then, gradually the sound is lessened, and eventually removed completely... and recalled at anytime, anywhere, as an internal means of focusing the mind on a sound. This is a great complementary tool for meditation practice.
CAUTION:
While there are no known side-effects to listening to binaural beats, as with all therapeutic modalities, it is best to start gradually and slowly work up a practice. Caution needs to be taken not to listen to sound that is too loud - prolonged exposure to sounds at or above 85 decibels can cause hearing loss over time. Use common sense when listening to these sounds - make sure the volume level through your headphones is comfortable. These are subtle sounds and work just as well at very low volumes. People who have Epilepsy, or Parkinson's disease, should consult their doctor before trying binaural beats.
Choose from the list of tracks below according to your desired outcome. You can decide which brain wave fits your desired state. In general:
Binaural Beats in the

DELTA range (1 - 4 HZ)

are associated with deep sleep, detached awareness, healing and relaxation;
Binaural Beats in the

THETA range (4 - 8 HZ)

are linked to REM sleep, reduced anxiety, relaxation, as well as meditative and creative states;
Binaural Beats in the

ALPHA range (8 - 13 HZ)

are believed to encourage relaxation, promote positivity, increase intuition and decrease anxiety, as well as stimulate visualisation and creativity;
Binaural Beats in the lower

BETA frequencies (14 - 30 HZ)

have been linked to cognition: increased concentration and alertness, problem solving, and improved memory;
Binaural Beats of

40 HZ (GAMMA)

 promote insight, peak focus, expanded consciousness and were found to be helpful in enhancing training and learning according to a 2020 study in Scientific Reports. [Ross, B. Lopez, M.D. 40-Hz Binaural beats enhance training]
Source: Healthline.com